10 Books for the *REAL* Music Fan on your Holiday Shopping List
Got a music fan on your holiday shopping list? We're not talking about someone who only listens to the radio in the car and, even then, spends half of their time talking on their cell phone. We're talking about someone who – like the name of this blog – eats, sleeps, and drinks music, someone who isn't afraid to do a little bit of genre-jumping and who, after being introduced to an artist or a scene, seeks out reference material to learn more about the songs they're hearing and the people who brought them to fruition. If so, we've got a few books for you.
Now, mind you, this isn't intended to be a comprehensive list, as most obviously evidenced by the fact that neither Keith Richards' Life nor Jay-Z's Decoded are anywhere to be found, not to mention Justin Bieber's scintillating story, First Step 2 Forever. All we're trying to do is offer up some suggestions based on what we've seen, read, and gotten excited about over the course of 2010. And now that you know that, read on…
1. John Lennon: Life is What Happens, by John Borack


Beatles-related coffee-table books are practically a literary industry unto themselves, but John Borack's contribution to the field is one of the best to come down the pipeline in quite some time, offering a blend of photographs, album covers, movie posters, memorabilia and minutiae from throughout John Lennon's career while interspersing the visual presentation with text.
Some of it comes courtesy of the author himself, who provides a more thorough history of Lennon's life and times than you might expect; given the eye candy with which he's surrounded his words, Borack could've gone the simple route, but rest assured that this is no rote history. Beyond his contributions, there are quotes from Lennon himself, of course, both from his lyrics and his interviews, but there are also comments from various musicians, DJs, and others who have been affected by Lennon's work throughout the years.
You'd be right to hesitate and think to yourself, "Do I really need another big-arse book about John Lennon and the Beatles?" In this case, though, you probably do.
2. Fab: An Intimate Life of Paul McCartney, by Howard Sounes


Ah, but do you need another big-arse book about Paul McCartney and the Beatles? Fortunately, in the case of Howard Sounes's Fab, you're not looking at a coffee-table volume but, rather, a proper biography. Sure, Barry Miles would seem to have the upper hand on McCartney bios, given that his contribution, Many Years from Now, was actually authorized by Macca himself, but with the 200+ interviews done by Sounes, the fact that he wasn't working directly with his subject means that you'll probably end up learning a few things that Sir Paul probably would prefer that you hadn't. Given that Sounes manages to tackle both the highs and the lows of McCartney's career while neither rhapsodizing nor crucifying the man, it's no surprise that the reviews for Fab have been, well, fab.
3. Talking to Girls About Duran Duran: One Young Man's Quest for True Love and a Cooler Haircut, by Rob Sheffield


I mean this in the best possible way and intend absolutely no disrespect to Rob Sheffield, but…I totally could've written this book. And so, for that matter, could my fellow Bullz-Eye editor, David Medsker. Even though this book may not mirror either of our lives precisely, it contains enough universal truths about growing up in the 1980s and the soundtrack of the era that the experience of reading it proves at various times to be heartwarming and heartbreaking but – fortunately – with a whole lot of hilarity also thrown into the mix. Covering everything from Duran Duran and Depeche Mode to Rob Base and DJ E-Z Rock and Def Leppard, it may be Sheffield's memoir, but a lot of it is our lives, too. You'll probably find it contains a bit of yours as well, even if you weren't even yet born when the '80s ended (man, did you just hear that really loud collective sigh from all of the thirty- and fortysomethings?)…and if you're like David and I, it'll probably make you want to write your own book. But until after you curse Sheffield for having written his first.
4. A Wizard, A True Star: Todd Rundgren in the Studio, by Paul Myers


Paul Myers may have made his biggest literary splash – or certainly his most high profile, anyway – by penning Barenaked Ladies' authorized biography, Public Stunts, Private Stories, but it's his passion projects which have proven the most educational for music-bio aficionados.
2007 brought us his examination of the British blues scene of the 1960s as viewed through the kaleidoscope of Long John Baldry's career (It Ain't Easy: Long John Baldry and the Birth of the British Blues). Now, Myers has set his sights on a more mainstream musical figure…although, really, when someone inspires his followers to declare, "Todd is God," doesn't that by definition mean that they have a cult following?
But I digress.
With A Wizard, A True Star, Myers attempts the daunting task of exploring Rundgren's work behind the board, as it were, exploring in great detail the albums that he's produced over the years, including Meat Loaf's Bat Out of Hell, the New York Dolls' self-titled album, XTC's Skylarking, and, as the cliche goes, many, many more. Researched and written with the participation and cooperation of Rundgren himself, Myers also draws upon exclusive new interviews with Robbie Robertson, Patti Smith, XTC, Sparks, Daryl Hall and John Oates, Meat Loaf, Jim Steinman, Cheap Trick, Grand Funk, The Psychedelic Furs, The Tubes, Steve Hillage, and the members of Utopia.
If you're a Rundgren fan and didn't already know what you wanted for Christmas before reading this, I think it's fair to say that you do now.
5. Husker Du: The Story of the Noise-Pop Pioneers Who Launched Modern Rock, by Andrew Earles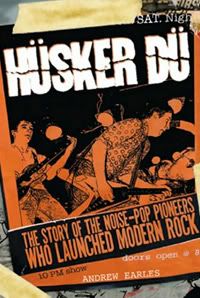 In the interest of full disclosure, I must admit that I have yet to pick up a copy of this book, but while I'm not necessarily expecting it to top Michael Azerrad's look at the band in Our Band Could Be Your Life: Scenes from the American Indie Underground 1981-1991, the idea of someone putting together a full-fledged history of the work that Bob Mould, Grant Hart, and Greg Norton did together has me excited enough that I feel like I should at least spread the word about it.
Here's the official description of the book:
Taking their name from a popular Danish children's board game, Bob Mould, Grant Hart, and Greg Norton formed Hüsker Dü in St. Paul, Minnesota, in 1979 as a wildly cathartic outfit fueled by a cocktail of volume and velocity. Author Andrew Earles examines how Hüsker Dü became the first hardcore band to marry pop melodies with psychedelic influences and ear-shattering volume, and in the process become one of the most influential rock bands of the 1980s indie underground. Earles also explores how the Twin Cities music scene, the creative and competitive dynamic between Mould and Hart, and their personal lives all contributed to the band's incredible canon and messy demise. Few bands from the American indie movement did more than Hüsker Dü to inform the alternative rock styles that breached the mainstream in the 1990s. Here, finally, is the story behind their brilliance.
Hey, it certainly sounds good. Whichever one of us gets it first, meet back here and let the other know how it is, deal?
Posted in: Artists, Book reviews, Lists
Tags: Andrew Earles, Composed, Composed: A Memoir, Dave Stimson, Duran Duran, Fab: An Intimate Life of Paul McCartney, Headlines, Howard Sounes, Husker Du, Husker du: The Story of the Noise-Pop Pioneers Who Launched Modern Rock, John Borack, John Lennon, Johnny Cash, Ken Sharp, Life Is What Happens, Mozipedia, Mozipedia: The Encyclopedia of Morrissey and the Smiths, Paul McCartney, Paul Myers, Rob Sheffield, Rosanne Cash, Simon Goddard, Simon Reynolds, Starting Over, Starting Over: The Making of John Lennon and Yoko Ono's Double Fantasy, Talking to Girls About Duran Duran, Talking to Girls About Duran Duran: One Young Man's Quest for True Love and a Cooler Haircut, Tesco Vee, The Beatles, Todd Rundgren, Totally Wired, Totally Wired: Postpunk Interviews and Overviews, Touch and Go, Touch and Go: The Complete Hardcore Punk Zine '79 - '83, Yoko Ono