Tonight's installment of "Spectacle: Elvis Costello with…" finds our man Elvis opening the proceedings with a cover of The Velvet Underground's "Femme Fatale." One presumes that his guest for the evening, Lou Reed, was at least tolerant of the rendition, since it's not as though ol' laughing Lou has ever been afraid to speak his mind. (Plus, the two of them team up later in the episode for performances of "Perfect Day" and "Set the Twilight Reeling.")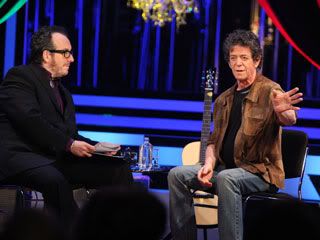 Maybe it's just the interviews I've read, but most of the time, Reed tends to come off as not just prickly but downright grouchy; it's therefore a testament either to Elvis's ability as a moderator or Lou's respect for him that the conversation between the two of them is actually rather illuminating. Mind you, there was no discussion about Lester Bangs (I'm sure Reed is tired of being asked about Bangs' love/hate relationship with his work, but I'd still love to have heard Elvis pose a question about it), but be sure to catch the discussion of the R&B great who played on Reed's very first record, the relationship between Reed and Doc Pomus, the hard and fast rule in the VU about not copping blues licks, the secret chord in "Sweet Jane" that everybody gets wrong, and how he thought he spent his youth convinced that he was utterly unemployable.
The most fascinating moment of the conversation, however, comes when filmmaker Julian Schnabel joins Costello and Reed onstage. At first, it sounds like Schnabel more or less just happened to be in the crowd, but we soon learn that Reed and Schnabel are longtime friends, and before long, the discussion leads into a moment that the two of them shared as a result of the death of Schnabel's father. It's a story that starts out rather disconcertingly, but as it progresses, it becomes a testament to the healing power of music.