RIYL: Bon Jovi, KISS, Spinal Tap
When the Scorpions announced that their new album, Sting in the Tail, would be their last, some cursed, others cried, but most asked, "Wow, really, the Scorpions are still together?" At this, the other two demographics immediately responded, "Well, they won't be soon, but thanks for pouring a little more salt in the wound, you cruel bastards," but at least the band has offered up quite a bit of music in their 45-year career – yes, seriously: the original incarnation of the band came together in 1965 – to keep their fans rocking well into the future. The Scorpions' previous album, 2007's Humanity: Hour I, found them teaming up with producers James Michael and Desmond Child for a concept album that was better than you might think (and, believe it or not, even featured a guest appearance from Billy Corgan on one track), but for their grand finale, the group has opted to go back to basics and re-embrace the straight-ahead heavy metal sound that earned them their greatest success.
When you first glance at the track listing, you may well be tempted to call the Rock Cliche police, given that there's a clear violation on the allowed number of songs per album which feature the word "rock" in their title: while I believe it varies from country to country, it cannot possibly be acceptable in any nation to offer three on one record, as they do here with "Raised on Rock," "Rock Zone," and "Spirit of Rock." Still, there's something to be said for playing to the fans, and those individuals who can successfully scream "Scorpions ROCK!" without even the slightest hint of irony are not likely to complain about such a transgression, nor will they laugh out loud about the band's daring decision to close the album with a song entitled "The Best Is Yet To Come" the way almost every critic in the world – including yours truly – surely did. But, then, we music journalists are jaded and cynical lot…unlike the Scorpions, who are clearly still enjoying themselves.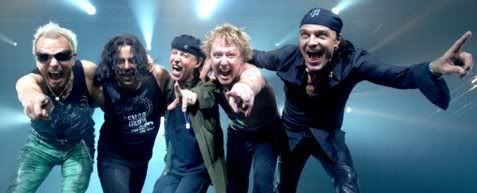 One of the aforementioned "rock" songs – "Raised on Rock" – kicks off the proceedings, and it's good…or, at least, it sounds like the band made a conscious effort to write a track that would make those listeners checking in on the band for the first time since "Rock You Like A Hurricane" think that they were having a flashback. There isn't an ounce of originality in the song – think about Bon Jovi's "You Give Love A Bad Name," then try to keep from laughing at the :44 mark – but it's still a great riff and a monster chorus. The same can be said for several other songs on the album, too, including "The Good Die Young," "Lorelei," and…well, okay, you probably won't be able to keep from laughing at "Turn You On," either, given that it rhymes "if you wanna feel the sting" with "come on, baby, shake that thing," but it, too, is catchy as hell.
Whether you'll view Sting in the Tail as a worthy final chapter to the Scorpions' 19-album career will, as you might suspect, depend heavily on how many of those albums you've actually heard (not to mention whether you can enjoy the music without choking on the lyrics), but for those who who haven't bothered to follow the band since they whistled their way into the top 10 with "Winds of Change," it at least serves to prove that the band can indeed still…wait for it…rock you like a hurricane. (UMG 2010)